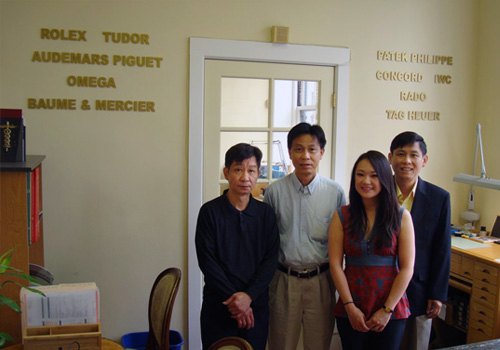 United Watch Services began life as a Rolex Service Center in 1970's Saigon, before the North Communist Party takeover of South Vietnam. Our family staff had previously been trained by the master technicians of Montres Rolex from Geneva, Switzerland and by the master watchmaker from Omega service center (we also serviced Omega watches).
• Former Rolex Service Center (Saigon, Viet Nam)
• Omega Factory Certified by USA
– Training Includes Omega Co-Axial Escapement
• United Watch Services provides watch repair service and pre-owned watches for 50 states.
United Watch Services is located in the Shreve Building at 210 Post Street, Suite 613, in San Francisco, close to Union Square. We have been in business for more than 30 years and have developed a superior reputation in that time for servicing fine watches for satisfied customers and jewelry stores.
After we relocated to San Francisco, California in the late 1970s, we continued our service training for Rolex and Omega watches, as well as other fine timepieces by Patek Philippe, Piaget, Chopard, Corum, Concord, Audemars Piguet, Baume & Mercier, Movado, Rado, and Tag Heuer.
United Watch Services has been inspected by the Swiss watch factory technical field director to ensure that we use only the finest equipment and knowledge to service their products. We use factory original spare parts for our repairs.
Our satisfied customers include private individuals and other fine Retail Jewelers. We invite you to visit or call our offices to discuss your watch repair needs. We strive to offer the very best service in a friendly atmosphere.
United Watch Services thanks you for the opportunity to be of service. Providing outstanding service is our highest priority and greatest pleasure when meeting your watch repair needs.