United Watch provides the highest quality services for your high end watches in San Francisco: Rolex, Omega, TAG Heuer, Movado, …
Watch repair is very important for your high end watches. United Watch Services provides the best quality repair service for our customers in San Francisco and the whole United States. Finding the right place & right person to have your watch serviced is very important. United Watch repairs Rolex, Omega, Cartier, TAG Heuer, Patek Philippe, Movado, Gucci, IWC, Ebel, Panerai, Franck Muller, and many other quality watches.
Recommended by Most Watch Factories
A watch is a precision instrument made up of hundreds of tiny parts. Make sure that you always have it serviced by a skilled watchmaker certified and authorized by the factory.
Watch Restoration and Cleaning Services
Here at United Watch Services, no task is too large or too small. From partial repairs, such as Watch battery replacement, gasket changes, water resistance tests, and other minor repairs, to the complete overhaul of fine timepieces, United Watch Services does it all. We also renew and re-polish the case and bracelet of your timepiece, to maintain its value and aesthetic quality.
Our San Francisco location serves Oakland, Marin, San Jose and the entire Bay Area.
Step 1
Maintenance service for the movements of your fine timepiece serves to preserve the accuracy, original look and long life of the watch.
In the service process, the movement is completely dismantled.
Step 2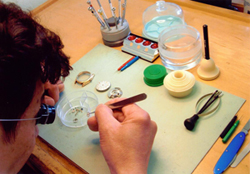 Any damaged parts are repaired or replaced. New parts are checked and adjusted. The fully reassembled unit then undergoes ultra-sonic cleaning.
Service continues with reassembly, lubrication, adjustment, and regulation of the fitting of the watch dial and hands.
Step 3
The case and bracelet are refinished, which is followed by resealing and a water resistance test.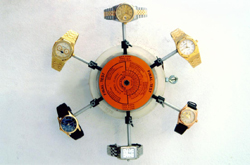 The final inspection and testing of the timepiece lasts for 48 to 60 hours.
Before & After Restoring
| | |
| --- | --- |
| Rolex Before | Rolex After |
| Omega Before | Omega After |